"I find my inspiration everywhere; from nature, music, art and the people I meet.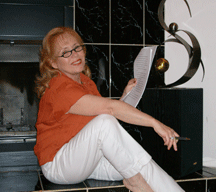 By connecting with people, there is so much to learn. With this knowledge, comes growth. Without growth or the human connection my soul would wither and die."
Novelist, Chris Coad Taylor writes Women's Fiction and Psychological Thrillers. This forward thinking author with a savvy intellect holds equal loyalty to the north and the south.
Her birthplace was just a stone's throw from New York City. Born in New Jersey, she lived there until six-years-old and then she and family moved to Florida. There she grew to love the tropical beauty of Florida. Her parents bestowed their appreciation of Broadway, museums and the liveliness of a big city to her nurturing the love for the richness of both worlds of the north and south.
A family history of artists and talented relatives, Chris has carved her own creative path. Her range of talents has included working in the interior design industry as an accessory designer, artist, painting in a multitude of mediums on papers, canvases to wall murals encompassing entire rooms, photographer and now published author.
A member of Florida Writer Association and National Museum of Women in the Arts, Florida Publisher Association and holds office as Secretary of Tampa Writer's Alliance.

Chris is also a past member of Miniature Art Society of Florida and Interior Design Society.
Chris's persona is a lively blend of big city sophistication mixed with the gentle hospitality and friendliness of the old south. Keep your eyes on her because there is a lot more to come.